Hello traveling guys and girls! Thinking of taking your beloved bicycle on a plane? I can give you some advice on this subject. I decided to take my set of wheels to Thailand from New York City. it can be a bit unwieldly and expensive but i did get it done and it can be exhilarating if you enjoy cycling the streets in a new city or while you are on a beach vacation on your home set of wheels! Whether you are going for a week or like me going for 3 months. I'm a daily cyclist so for me it may be worth the stretch of moving it around. Here my bicycle sits with me in Albania and 30 months on the road!
A few tips, first of all, you will need to dissemble your bicycle if its NOT a foldable bicycle. Granted lets first get into the foldable types. These are those types with small little wheels that have foldable frames as well. These you can put into a regular sized case that looks similar to a full size airline suitcase, so 62 linear inches or less. You do not even need to inform the airline that you are bringing the bicycle as it will be just inside its own piece of luggage, so much easier. However if you are like me and you are a relatively serious cyclist, you want a pure real bicycle, then you need to keep reading!
A regular bicycle is too big to be taken as a normal piece of luggage especially if its fully assembled so be prepared to these following things… take off the front wheel. On my Trek FK 2 this is simple, just unclamp the front skewer and pull it out. in order to make it smaller you will also need to take off the rear wheel, chain, pedals, seat, seat post, handlebars and the front fork, a little of work ehh??!! Yes it is a bit of work. Now we need to discuss the case or the piece of luggage that you are going to put the bicycle inside of…
For me this was kinda hard to figure out, as I didn't want to spent the money to pay for the expensive hard bicycle case that would surely be counted as an oversized luggage item. I bought a soft large storage bag for the bicycle, the kind that might only last a few trips, more on this in a bit. So the bag was about 50 inches wide, by 12 inches deep by 30 inches top to bottom that gives you an idea its a pretty big bag!
A budget carry case for a full sized bicycle looks something like this: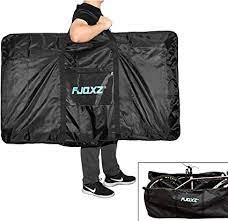 On the outside of the bag, I attached 2 compression straps that brought down the size of the bag a bit. Here's the good news about using a collapsible bag to move your bicycle in – the airline didn't charge me an oversized luggage fee. Sometimes the airlines will charge you for sporting equipment, but some will charge you for having an extra piece of luggage as well as for the oversized fee. So this total for an intercontinental flight might be $200 for the extra bag and $200 for the oversized bag; in the next paragraph we can check EVAs prices. This is what a more expensive wheeled bicycle case might look like, for example EVOC: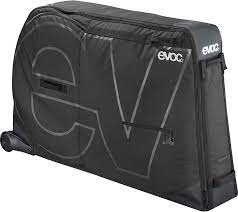 Airline fees, bicycle as luggage: Fees vary, but for me as an international traveler, I was looking first at intercontinental fees on airlines like Singapore Airlines and EVA, as I was first going to be flying from NYC to southeast Asia. These vary from reasonable $100 to $200 to really ridiculous (check some of the Mideast airlines). Regarding EVA air, the airline divides the world up into different zones and because i personally flew from zone 6 to zone 2 (NYC to southeast Asia) this is a charge of $260 for the bicycle, which is not unreasonable, as I already had two pieces of hard-sided jumbo luggage. EVA offers a passenger 2 pieces of 50 lb luggage plus a carry on of 15 lb for free. Unfortunately it looks like EVA air is increasing prices this fall. Take a look at baggage charges here on EVAs site..