Greeting traveling guys and girls! Looking for info on how I was able to snag a super low priced airfare on Wizzair here in Europe for $11?!? You came to the right blog. Here's some info about me. My first tip, you can go to Wizzair.com and make sure to search by month. i chose to book something 19 days in advance for 8.99 GBP which translates to $11.22 – a flight from London Luton to Tirana, Albania.
First tip – In my experience of having traveled over 30 months more often than not one can get a cheaper fare by booking in advance, and its better to book something far away from the most popular travel periods, but more in the neutral to average times or in the unpopular times. I just checked to see how much it would be to book the same flight a few weeks from now in June, and its coming back as $48.17 as seen below, but this isn't the whole story, let me give you some other tips on the true cost of the flight in just a few moments…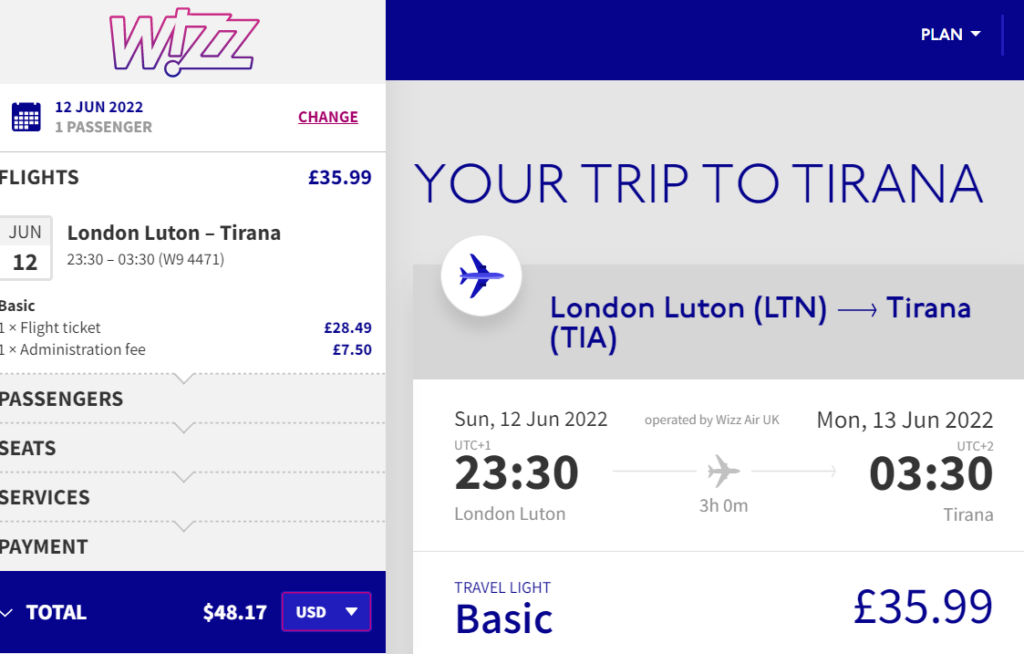 The major discount airlines in Europe are these: Ryanair, Wizzair, and Easyjet. These are cheap prices mostly for intracontinental travel in Europe, whereas INTER-continental, meaning over oceans, and flights on full-service airlines tend to be a much more costly form of travel. Just recently I also took a Ryanair flight from Madrid to Marrakech and the cost was around the same $11… however this does not include things like baggage, seat selection, food, priority boarding, a wider seat, first class, running water, or a return ticket, lol, so there are quite a few perks that go missing. Its also an extra fee if you need to change the flight date, in fact you basically just lose the ticket and have to buy a new one.
Let me list out some minuses, services, and perks that are NOT included in the cost of an airline ticket, flying with Ryanair or Wizzair….
#1. The ability to print out your boarding pass FREE, thats right you need to pay for that at the airport, so print it beforehand.
#2. Seat selection, i have been really lucky here, once i paid for a window seat, the other two times i was chosen at random to get a window seat, i guess there's a lot of el cheapos flying here, because i never got the middle seat. cost of a seat is about $6.
#3. Ability to change or cancel your flight. If you decide you wanted to fly a different day, guess what, you lose your $11 and have to pay again, not the end of the world…
#4. Food and beverage on board. You wont be eating anything unless you pay the exorbitant prices for food or drink on board or at the airport, so just expect to lose a lb or 2 if you are on a budget.
#5. Luggage. This is a big one. For the Wizzair flight above, i brought a 45 liter carry on backpack, max dimensions 115 cubic cm, i also brought a personal item, a 20 liter stuff sack that i bought from Decathlon. i had to pay for what is called priority on Wizzair, which includes first boarding, a trolley or backpack carry on piece of luggage, and a personal item.
#6. Seat Space. You dont get much of a seat on Wizzair or Ryanair, more like 1/2 of one seat. I personally am a male who is only slightly over 5 feet 8 inches tall, i usually say that I am 5'9" and let me tell you i crammed into my seat. Most American and full service airlines offer bigger seats not smaller ones…
A few more tips… I did make it from A to B for the cost of the flight $11, luggage carry on backpack $31.83, so the total price of my style of travel was $42.83. If you possess a 20 to 30 liter pack then the true cost of the flight is $11. Since i was gone for 5 months from Albania before coming back, i decided to go with the 45 just to keep more personal items in my pack.
Ground Transportation – Going from London center or my hood, which was Elephant & Castle, i took 1 local English city bus to the #6 bus stop near Buckingham Palace. The cost of this bus was 1.65 GBP. Here i caught another bus for Luton Airport for 13.6 GBP or about $15. Wait a minute i also took a bus over here in Tirana from Tirana airport to Skanderberg Square, this one cost of 400 Lek, much cheaper than the one in London. 400 lek is actually $3.53 usd. 13.6 plus 1.65 GBP is totaled to $19.04, so we are upto total travel expense of $22.57 for ground travel, and $42.83 for air travel or $65.40, a little more than i quoted you on the $11 flight ticket and actually thats a bit surprising to me that the total was so high. if i had stayed inside London the cost would be $0….