Hey traveling guys and girls! For me and some of the other traveling backpackers out there, its time to start planning out our trips for summer of 2022, and let me tell you from the local news over here in Europe it looks like pandemonium and a little bit of chaos this travel season due to so many people wanting to travel now. Did you see the news about EasyJet, Ryanair and some of the other major European airlines canceling lots of flights per day? Check the link here from BBC.
So for starters if you dont know who I am, I am an American full-time traveler and you can read a bit more about my bio here. Now I just arrived back in Tirana, Albania, where I had my stuff in storage, and I plan on taking a break to rest in the same apartment that I rented back in the fall. So i was just thinking and looking at what other places and sites in Europe I would like to visit, how I might go about getting there, the expenses, and what ill take as well as my budget! In this blog post ill tell you how I go about doing it. If you are familiar with Myers Briggs personality types, I am an INTJ, and we are planners, for us or me specifically, I tend to make plans so that i can change them using new information, but at least I have one to start with, now I have several.
How do I plan?!?!?! I would like to visit somewhere I haven't been before, this still includes most of Europe there are 44 total countries in Europe and 1000s of cities.. so for the past few days I've been visiting major airline sites, kiwi.com, wizzair.com, and ryanair.com, Kiwi is the most useful since its able to search multiple airlines to piece together routes as well as show me an entire list of fares from competing airlines, whereas Wizzair only has Wizzair's fares. Now I'm not married to the idea of leaving Tirana on an airplane. I am also considering leaving by bus to make a few local stops at regional cities in the Balkans for example, Shkoder and Skopje, Macedonia.
Hotel & Hostel Prices in the summer of 2021 – one thing I just noticed is that hotel and hostel prices in western Europe are just going crazy! They are really moving up. In normal times of the year hostel prices tend to be well within my travel budget, over in Berlin we are talking $30 a night for a hostel, when I had previously searched I found most places to get one $20 or below perhaps $17. This is not good, but using my INTJ planning abilities, its not the end of the world, I'll find a way to adapt. There is a reason I purchased a tent last year.
The good news… I found this hostel in Skopje, Macedonia BSV Hostel for $5 on booking.com. Yes that's right only $5. So an entire week would set me back $35 or for the entire month if I wanna rough it, its $150 those are more like Thai prices, and this is a great deal for summer. Just for reference a private room in Skopje starts at $14 USD, not too expensive either.
So the bus from Tirana upto Skopje would run me about $20 to $22, then after I tour North Macedonia, the plan would be to jump over to Bulgaria more than likely also by bus, and the cost would be around $11 to $17 at the cheapest. North Macedonia is a small country with a population of 2 million that was also part of the former Yugoslavia sort of like Montenegro, so over there it wont take long to cover a few sites, namely the OLD BAZARR, a FORTRESS, or an old MONASTARY like the one below….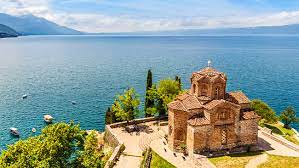 So using this example what I do is I try to average my cost of nights, keep in mind I'm a long term traveler so I'll be traveling for the entire month of 30 days. if I then jump over to a place like Stockholm in Scandinavia, the cost of a hostel might jump upto $30 a night (oops i just checked its $20 but lets assume its $30), the same for Berlin at present time. So if I stay in the $5 a night place for 15 nights and the $30 a night for 15 nights the total comes out to a monthly price of $525, a touch more than my actual monthly budget for housing in the Balkans but still not bad. Id probably add 5 nights worth of camping instead of the Swede hostel and get it down to $375 which is just about the right price for me. Notice that the price of camping per night is $0 that's quite a budget friendly #.
Slight correction… at present for July it looks like there are multiple hostels available in Stockholm for roughly $20 a night which is within my monthly price target so there you go, not as bad as Berlin. One other tip, if i were serious about going to Stockholm id book immediately instead of waiting, because those $30 nights might just jump upto $40 then id have to sleep in my tent.
Agoda... and a few other sites like Kayak… don't overlook this site, sometimes they do have flash sales that offer you a lower price than Booking.com. Concerning the site Agoda there are a few differences. Agoda follows a model where they purchase rooms and then sell them at a discount, rather than a commissions based model, this is why the prices are sometimes different (even though they are both owned by the same parent company). One of my minor complaint about the Agoda site is that its kind of hard to tell how much the total cost of the stay is for example, they dont include taxes, the cost of sheets, something of this nature, so just make sure to read the fine print.
I haven't been to Bulgaria, so this is a logical next step after Macedonia. Its not as cheap or as small as Macedonia, so might take a little more time to cover at a sightly higher cost. The question after this, do i want to take a bus to Hungary or Romania, or a flight to Sweden or Denmark!?!? Ill have to consider, and post in a future blog, thanks for reading….my map so far… and i never made it to my packing, ill do that next…