Hey traveling guys and girls! If you are like me and you are a backpacker looking to cut corners and save money on your long term trip, i can give you some advice on my experience sleeping at the airport so you dont need to pay for a hotel room for the night. Now, it may not be the most comfortable place to sleep, but its free.
A little more about my present situation, over here in Tirana, Albania, I am renting a temporary apartment/studio from this local Albanian man who doesn't mind to deal with tourists, students, and other people like myself who are travelers – my second time staying here. Unfortunately he already rented my room for two nights to a group of soccer fans over in Tirana for some European finals matches. I arrived here 5 days ago. So because of this i had to vacate my room to allow them to stay for two nights…then come back later – i thought my traveling fun was over….
Camping vs. Hostel vs Airport sleeping?!?!??!?! Which should I choose? Now for me its nice to take a comfy break inside a regular apartment with my own bed, kitchen and bathroom alone for a budget price, so i was happy to be back after 5 months on the road! For these two nights i had been looking for a spot to camp, and i was originally not impressed by the selection… heres a spot i droned in, but i felt it was a bit too dirty to camp near… plus some not so nice looking characters hanging around.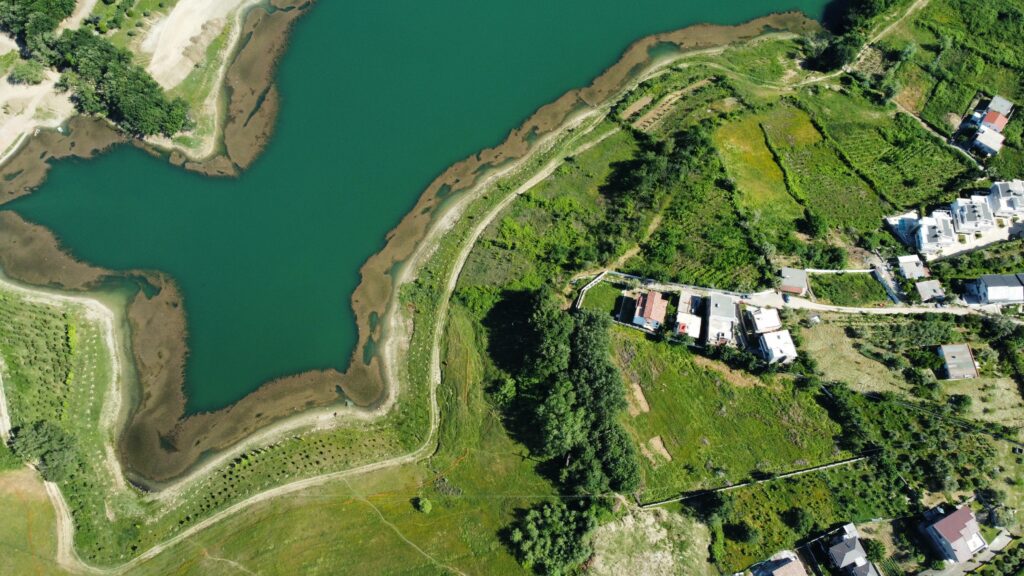 So off we go to the airport! Well not quite, the first night away from my room I chose to stay at a hostel, the Albania Hostel, it was a discount price, and honestly its a pretty decent place for hosteling. I asked them if i could pitch my tent on the roof but they declined! Lucky for me Tirana Airport is open 24 hours a day and another minor stroke of luck, the shuttle to and from Tirana is now free in celebration of the soccer match. It normally costs 400 lek or about 3.5 USD! Now this night wasn't the typical night for Tirana, there are tons of soccer fans hanging around here and at the airport, but from my experience they were pretty well behaved most of them.
Sleeping at the airport – my little lie about FLYING! When I arrived at the airport I grabbed some snacks from the 24 hour CONAD grocery shop. I had my large backpack as well as my stuff sack with me as luggage (as if i was taking a flight). Of course i had checked the flight schedule and the desk agent asked as i was sleeping which plane i was getting onto. I told them London Luton at 6AM with Wizzair! Haha, the one i just got off of, it actually landed at 2:30AM 5 nights ago, and that was my first night sleeping at this very same airport.
Where to sleep? If you dont want too much attention, choose some place in a corner and perhaps face the wall. I personally dont mind being near other people so i just sat on some of the chairs the ones with the backs. They also have a clothe covered bench here at Tirana Airport. I leaned back and dozed off about 1030PM and there weren't too many people around. For security I've got my Pacsafe backpack with the security zip, as well as the chain attached to my belt. I keep my wallet and cell inside the bag. You can read more about this bag and its security features here.
How was sleeping at Tirana airport? Well for this evening, I got away with it! I wasn't told to leave. The security bothered me once as I mentioned about which flight I was taking, but otherwise there was no problem from them. About 2AM there were tons of people who showed up at Tirana airport for the next days flights. One German man woke me up by having a loud conversation on his cell right next to me. Around 5am, i woke up and instead of checking in for the fictitious flight to Luton I used the bathroom then switched to a seat near the airport exit. About 20 mins later i was on the bus back to the center of Tirana, and then in Grand Tirana park awaiting the return to my room.